Information for passengers
Ulyanovsk (Barataevka) international airport carries out handling of domestic flights.
We offer wide range of services for all passenger categories. In the air terminal all conditions are created so that you feel comfortable when awaiting flights.
Inside of the building of the Ulyanovsk (Barataevka) airport you can use the following kinds of services 24/7:
Baby care room;




Call center;

M

edical aid station;

Baggage

storage room;




Cafe;




VIP

room;




Electronic banking devices, payment terminals;

Coffee automates;




Children's playground;

Free library.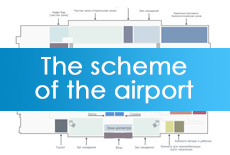 Information on flights is displayed on display panels in the check-in zone. Please arrive to the airport in advance for screening your luggage timely.
For more information please go to the corresponding sections of our website or call on the phone number +7 (8422) 455-644.
Have a good flight!